2F-floormap(Meeting room & Private office & Shared office)
※Try to click on the drawing
:Recommend :Vacant :Contracted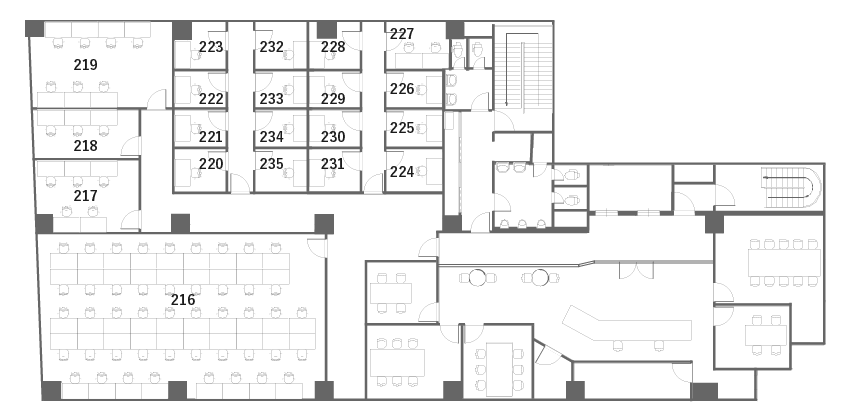 4F-floormap(Private office)
※Try to click on the drawing
:Recommend :Vacant :Contracted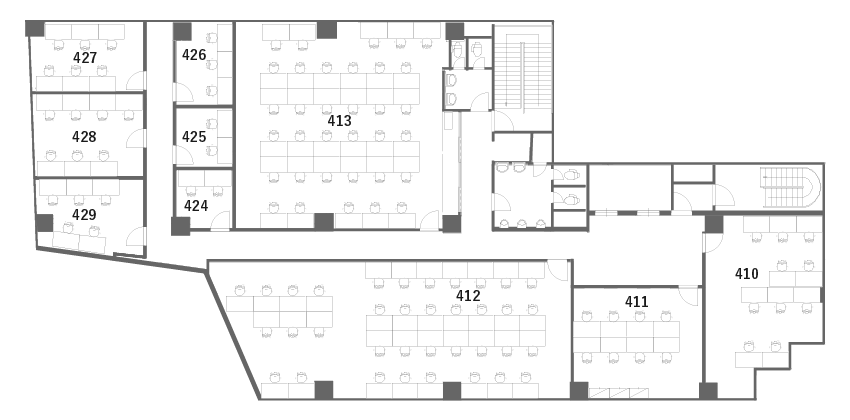 5F-floormap(Private office)
※Try to click on the drawing
:Recommend :Vacant :Contracted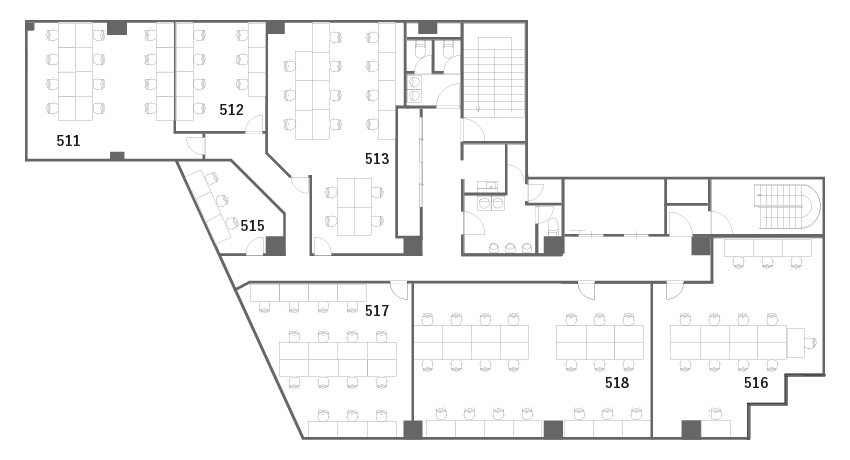 The price includes the following items
Furniture

Desk, chair

Internet

wired and Wi-Fi

Reception service receive customer
response and postal items
Meeting room

24 hours, 365 days available

Water utility cost Include fee.
Air conditioning available 24H
※ Internet line / telephone line can be pulled into your room yourself.
Basic Price List
Capacity
Number of users
Monthly charge
Availability
Room Photo
Room410
Private office (10pax)
33.2㎡
20 member
※

¥780,000


→ Ask the plice
【Special Offer】
Room429
Private office (5pax)
15.4㎡
10 member
※
¥380,000
Room233
Private office (1 pax)
4.2㎡
2 member
※
¥80,000

※

Size and price range may be used as a reference guide to help you in your cost estimation. We will give you a detailed price list upon receiving your inquiry.

※

Administrative fees will be incurred upon contract signing.

※

The number of people that can be registered includes the free number of people for remote membership.
Serviced office plans
Monthly charge
Common service fee
Availability
Private office
– Including use of MeetingRoom & Remote membership –
¥70,000~


※

Available from 1 people
¥10,000~


※

Free membership registration up to
twice the number of people
Virtual office
¥20,000
–
※

Administrative fees will be incurred upon contract signing.

※

The time limit of the meeting room that can be used per day varies depending on the contracted room. (Free use for 3-5 hours a day)

※

Initial cost of virtual office is ¥30,000.
Short-term contract plan
You may sign contract for an office from a minimum of 3 month.
 
Private Office
Including MeetingRoom
Private Office
Including MeetingRoom&
Remote membership
Virtual Office
Short-term contract plan
※

Our staff will always be there to assist you. We welcome you for office viewing.
Options Price List
Setup fee
Monthly charge
Others
Private
Office
Virtual
Office
Telephone line
With transfer / with voice mail
¥4,800
¥4,800
You can use the "03" phone number
Phone answering
(Private office)
¥5,000
¥5,000/~50call
51call~:¥100/call
Phone answering
(Virtual office)
¥8,000
¥8,000/~30call
31call~:¥200/call
Tea serving
–
¥5,000/~20cup
21cup~:¥250/cup
Company Signboard
at Reception(Private office)
¥25,000
¥2,500
–
Company Signboard
at Reception(Virtual office)
¥30,000
¥3,000
–
Company Signboard
at Private office
¥22,000
–
–
Office room partition removal/installation
(Room size can be changed)
¥180,000~
–
When moving out, there may be a cost to restore the original condition
MFP Carry-on fee
¥2,000
–
–
Mail arrival notice(E-mail)
¥6,000
¥6,000
–
Mail transfer
¥3,000
¥3,000
–
Free
Meeting room
–
–
¥2,000/h
Charge for the virtual office
Free
Printing charge(Color)
¥2,000※1
–
¥40/sheet
※2
Printing charge(Black)
¥2,000※1
–
¥8/sheet
※2
FAX transmission charge
¥2,000※1
–
¥8/sheet
※2
※1

In the case of color and black-and-white printing , FAX , you can apply for MFP Card which will cost ¥2,000.

※2

In the case of virtual office the client can ask for prinout at the reception.