Brokers, why don't you introduce your customers to the rental office "CROSSCOOP" in Tokyo? We will pay the fee for 1 month within 14 days. p>
We are always looking for intermediaries who can introduce our rental office "CROSSCOOP". By providing the option of "rental office" to direct customers such as intermediaries, we think that we can offer even more variations.
We will perform an actual inspection for the customers who introduce us, and we will report the progress information of the contract one by one, so we do not bother the intermediary. Please introduce with confidence. p>
Flow of payment of brokerage fee for rental office "CROSSCOOP"
IntroductionPlease introduce us to you.
You are welcome to bring your customers.(Broker)
Office PreviewRental office "CROSSCOOP" preview(Our staff)
Contract conclusionYour introduce customer signs a "CROSSCOOP" office.
(Our staff)
Contract establishment notificationNotify BROKER of contract completion information
(Our staff)
Fee paymentBrokerage fee payment(Our staff ⇒ Broker)
About brokerage fees
If the introduced customer makes a contract with this rental office (* 1) small>, the amount equivalent to one month of the usage fee will be sent from our company within 14 days from the contract date I will pay.
※1 Only when the office contract period is 12 months or more
※The payment of the brokerage fee is subject to the payment of the first billed amount to the company introduced by the customer
※Limited to real estate agents that have been officially licensed as real estate brokers
Background of rising demand for rental offices in Tokyo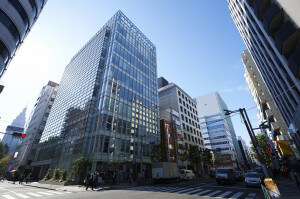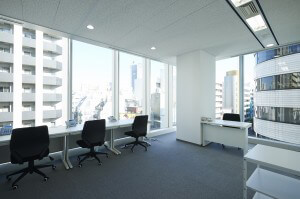 Recently, there is a growing demand for " rental office " that has already been equipped with equipment and furnishings, apart from "Serviced offices " (rental offices) where real estate properties are contracted and rented.After all, " good location (in prime location in Tokyo) " Initial costis suppressed " You can contract even if you just started a business " "Equipped with the necessary equipment for work " " Flexible contract period , Expansion / expansion of contract space , Comprehensive service such as secretary agency , Entrepreneur / resident There are other reasons such as "communication with each other ", and convenience and added value different from general rental offices (rental offices), The charm of a rental office.
In recent years, we have also come to hear a lot of words such as "nomad worker", "coworking", and "telework (teleworker)" that work in a specific place. The way we think about work styles has changed. Perhaps many people were forced to work from home during the 2011 Great East Japan Earthquake. Therefore, especially after the earthquake, there is an increase in the number of medium-sized enterprises that are shifting from having a single office to several small offices in multiple regions. However, it can be said that the demand for the main rental offices is increasing.
Rent offices do not simply exist to rent out small office spaces for small businesses, sole proprietors, and venture businesses. In addition to convenience and added value, the demand for rental offices is rising because work styles are changing.
■Comparison of Servised office and General rental office (rental office)
| Check item | Servised office | General rental office |
| --- | --- | --- |
| Initial cost (deposit key money) | Cheap. About one month per month | High. Rent for 8-10 months |
| Interior work and infrastructure equipment (phone, internet, etc.) | Unnecessary. Prepared | Need to prepare |
| Office furniture (desks, multifunction devices, shredders, etc.) | Unnecessary. Prepared | Need to prepare |
| Expansion / reduction of office space | Flexible support | Move required |
| Contract period binding | With short-term plan | Generally 2-year contract |
| Termination prior cancellation notice | 2-3 months ago | 6 months ago |
| Abundance of service contents | Receptionist resident etc. | Nothing special |
<Advantages of a Serviced office>
No deposit or key money for 6-8 months
No need for interior construction or internet / telephone construction
No need for expensive investment such as office furniture and multifunction devices
Office renting can be done according to the scale, as there is no need to rent an office, reception area, reception area, etc.
Flexible room change according to the number of employees and work style
Flexible contract period
Cancellation report is shorter than general rental offices (rental offices)
The reception is manned, and it also handles customer correspondence, mail management, cleaning etc.
What is "CROSSCOOP" Serviced Office?
There are various types of "rental office" depending on the service content.Tokyo Rental Office CROSSCOOP is a comprehensive rental office that can provide two types: a private office type "Serviced Office" for 1 to 100 people and a "Virtual Office" for registering and receiving mail. There is also a coworking space, free meeting rooms and seminar rooms.
It is the most well-established brand that has been in operation for over 10 years in a comprehensive Serviced office.
In Japan, there are two bases in " Shinjuku (Shinjuku / Shinjuku 3-chome / Shinjuku Gyoen) " which are convenient and easy to access, mainly in Tokyo's 23 wards, and in Minato Ward, We have rental offices, shared offices, and virtual offices in Aoyama (Aoyama / Gaienmae / Omotesando) and " Roppongi ", and our customers have offices in central Tokyo. You can set it up immediately. In addition, as the only Japanese rental office, we have opened similar service offices in Singapore, Indonesia (Jakarta), India (Delhi), Vietnam (Ho Chi Minh), Philippines (Manila) overseas, so that our customers' overseas orientation is increasing. We will continue to expand into Asia.
Looking for brokers at any time
As mentioned earlier, the need for rental offices has increased in recent years, but there are not many real estate brokerage companies that can mediate.
In response to such rising needs, we can propose a new unique solution that meets the diversifying customer needs by starting a rental Serviced office brokerage service that is not actively undertaken by others.
Since the Office viewing and contracts are done by us, the labor and time of the intermediary company can be saved, and we can concentrate on developing new customers. In addition, we have already signed contracts with several intermediary companies, and we have already established the customer introductions and inspections that the intermediary companies are concerned about, and the reporting / contact flow up to the contract, so please feel free to introduce us.
If the customer who introduces us reaches the contract, we will pay the brokerage fee of about one month of the monthly fee within 14 days. Please contact us first.
Contact us
SOCIALWIRE CO., LTD. " CROSSCOOP " Office Service
TEL:03-5361-8660  E-MAIL:info@crosscoop.com