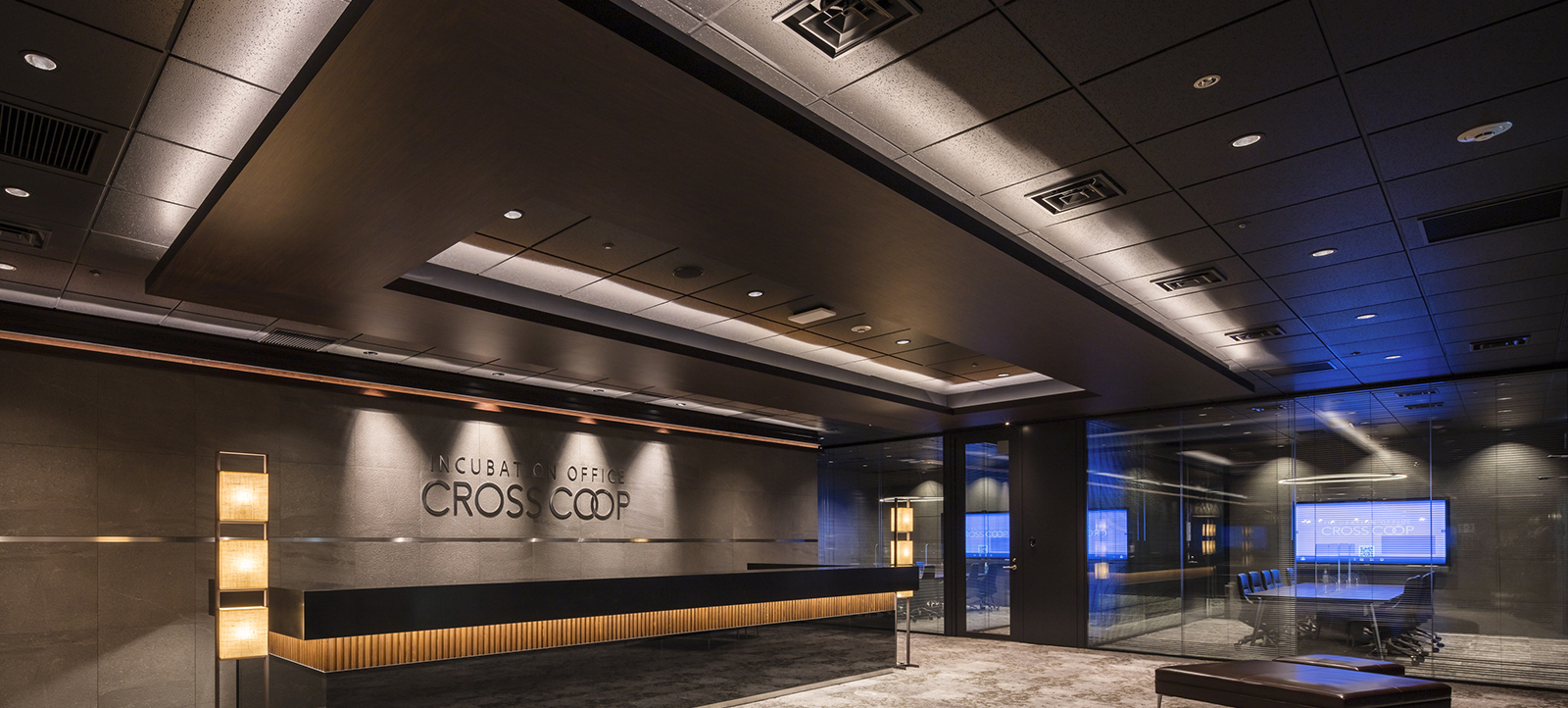 YOKOHAMA
Serviced Office
Kanagawa, Japan
A high-grade rental office suitable for a business base that opens up the times
10F-floormap

※Please click on the drawing
:Recommend :Vacant :Contracted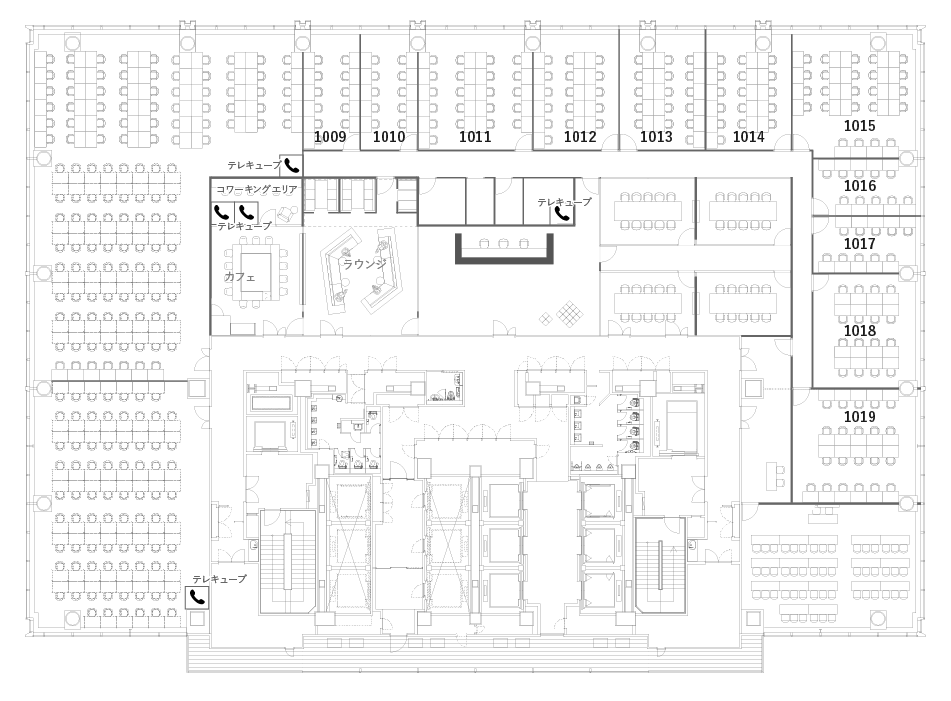 The price includes the following items
Furniture

Desk, chair

Internet

wired and Wi-Fi

Reception service

receive customer、response and postal items

Meeting room There are several rooms
24/7 available
Water and air conditioning fee

It is included in the rent

Lounge

No restriction on use

Cleaning fee included

Every morning on weekdays
※Internet line / telephone line can be pulled into your room yourself.
Basic Price List
Capacity
Number of users
Monthly charge
Availability
Room Photo
Room1009
Private office (10 pax)
25㎡
20 member
※

¥870,000~


→ Ask the plice
【Specai Offer】
Room1014
Private office (16 pax)
37.5㎡
32 member
※

¥1,400,000~


→ Ask the plice
【Specai Offer】
Room1018
Private office (20 pax)
45㎡
40 member
※

¥1,700,000~


→ Ask the plice
【Specai Offer】
Room1000
Private office (70 pax)
158㎡
140 member
※

¥6,000,000~


→ Ask the plice
【Specai Offer】
Room1001
Private office (130 pax)
287㎡
260 member
※

¥11,300,000~


→ Ask the plice
【Specai Offer】
※

Size and price range may be used as a reference guide to help you in your cost estimation. We will give you a detailed price list upon receiving your inquiry.

※

Administrative fees will be incurred upon contract signing.

※

The number of people that can be registered includes the free number of people for remote membership.
Serviced office plans
Monthly charge
Common service fee
Availability
Private office
- Including use of MeetingRoom -
-
-
Private office
- Including use of MeetingRoom & CoWorking area -
¥500,000~


※

Available from 5 people
¥50,000~


※

Available from 5 people
Virtual office
-
-
※

Administrative fees will be incurred upon contract signing.

※

The time limit of the meeting room that can be used per day varies depending on the contracted room. (Free use for 2-5 hours a day)

※

Yokohama office does not have virtual office plans.
Short-term contract plan
You may sign contract for an office from a minimum of 3 month.
 
Private Office
Including MeetingRoom
Private Office
Including MeetingRoom&
CoWorking area
Virtual Office
Short-term contract plan
※

Our staff will always be there to assist you. We welcome you for office viewing.
Options Price List
Setup fee
Monthly charge
Others
FAX line
¥20,000
¥4,800
You can use the "03" phone number.
Please prepare fax machine by customer
Telephone line(Fixed TEL)
With transfer and answering machine
¥4,800
¥4,800
You can use the "03" phone number
Telephone line(APP)
Make and receive calls on your smartphone
¥4,800
¥4,800
You can use the "03" phone number
Tea serving
-
¥5,000/~20cup
21cup~:¥250/cup
Company Signboard
at Reception
¥30,000
¥5,000
-
Company Signboard
at Private office
¥22,000
-
-
Office room partition removal/installation
(Room size can be changed)
¥180,000~
-
When moving out, there may be a cost to restore the original condition
MFP Carry-on fee
¥2,000
-
-
Mail arrival notice(E-mail)
¥6,000
¥6,000
-
Mail transfer
¥3,000
¥3,000
-
Entrance information log data
-
¥5,000
It is a service to send log information of
entering the room by e-mail every month.
Meeting room
(10 pax)
-
-
Free: Free for 2 to 5 hours a day
Charge: Free time over can be used for ¥4,000 / h
Printing charge(Color)
¥2,000※1
-
¥40/sheet
Printing charge(Black)
¥2,000※1
-
¥8/sheet
FAX transmission charge
¥2,000※1
-
¥8/sheet
Seminar Room
(54 pax)
-
-
¥12,000~/h※2
※1

In the case of color and black-and-white printing , FAX , you can apply for MFP Card which will cost ¥2,000.

※2

We have special Seminar Room prices for our tenants .
High-grade office where you can feel the sea breeze
Office decentralization / remote work for employees
Remote membership
Member addition service that allows free registration up to twice the capacity of contracted private rooms
You can use the lounges at all bases
Remote membership is a service that allows you to add members. With " CROSSCOOP ", registration is free up to twice the capacity of contracted private rooms. If you wish to register as a member more than twice, you can register for a fee. Members can use the lounges of all bases. We have prepared a menu that can be used flexibly for companies considering decentralized offices and remote work.
Recommended for companies like this
Some employees carry out telework and remote work
Considering shrinking the head office
Companies looking for a space that can be used outside the head office
Access
Good location 3 minutes from "Yokohama" station
3 minutes walk from East Exit A of "Yokohama" station
〒221-0056
Yokohama Diamond Building 10F, 1-7 Kinkocho,
Kanagawa-ku, Yokohama-shi, Kanagawa
+81-50-6861-2909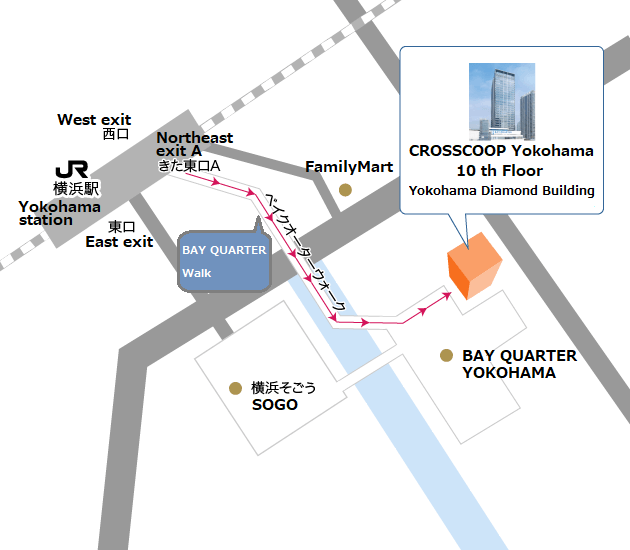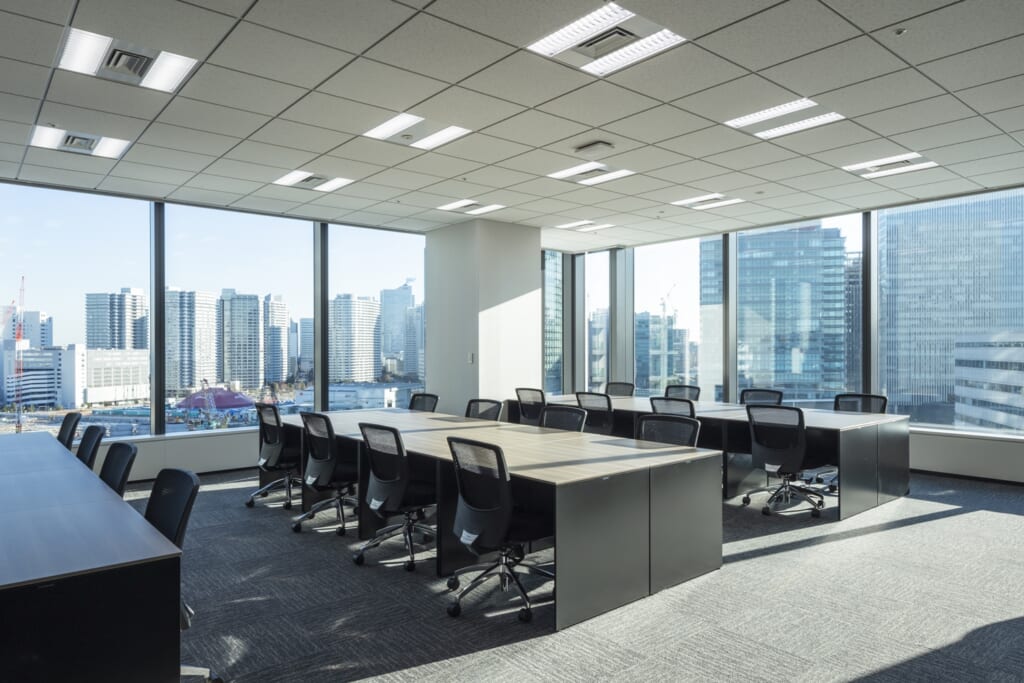 Completely private office
We have a completely private office. Available for 5 people, 10 people, 16 people, 20 people, 25 people, 30 people, 60 people, and up to 100 people, flexibly according to the increase or decrease in the number of users. You can use it. Desk, chair, LAN, and wireless WiFi are standard equipment in the office
(※ 1)
. Air conditioning is available for 24 hours.
※ 1 Standard LAN / wireless WiFi is shared on the CROSSCOOP building.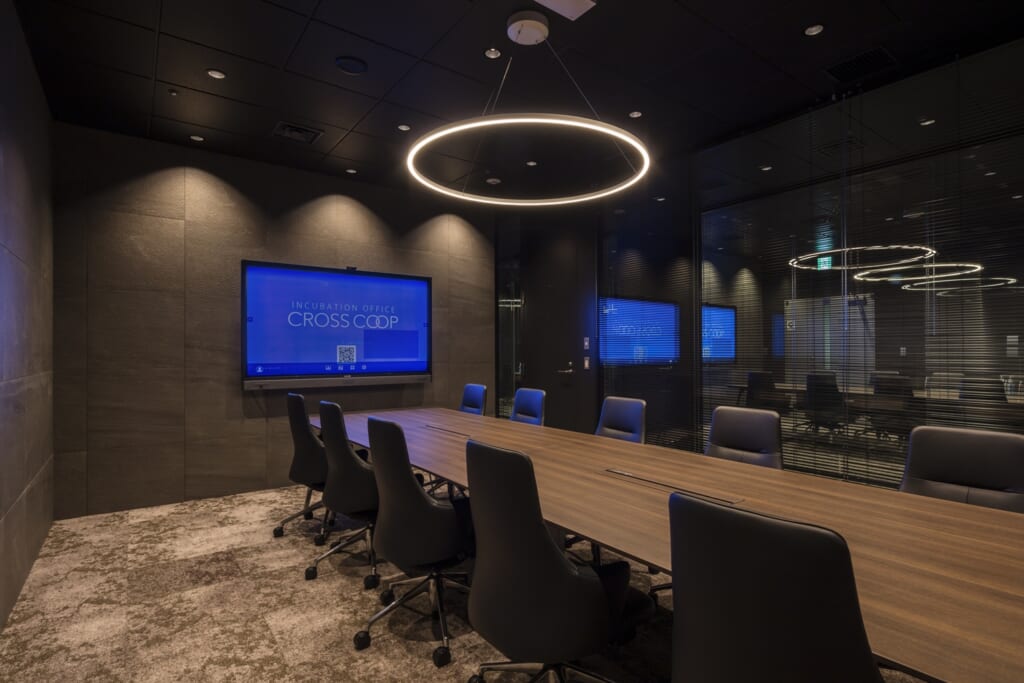 FREE Meeting room
4 meeting rooms for 10 people are prepared. Available 24 H 365 days. Depending on the size of the contracting office, members of CROSSCOOP can use "free from 3 hours a day to 5 hours a day" every day
(※2).
The luxury meeting room that I can not think that it can be used for free is very popular among members.
※2 To use the meeting room for free, it is necessary for the member to make a reservation in advance on the web on the web.

Cafe · Lounge · Co-working
Area
We have set up a cafe space where you can take a break. We offer coffee and latte. We also have a lounge and coworking area that you can use whenever you want. The area is divided according to the purpose, so you can use it freely for "meetings", "change of mood", and "when you want to concentrate alone". Security is also safe as the use is limited to companies that have contracted for private rooms. You can also use the app to connect with all residents of CROSSCOOP in Japan and overseas.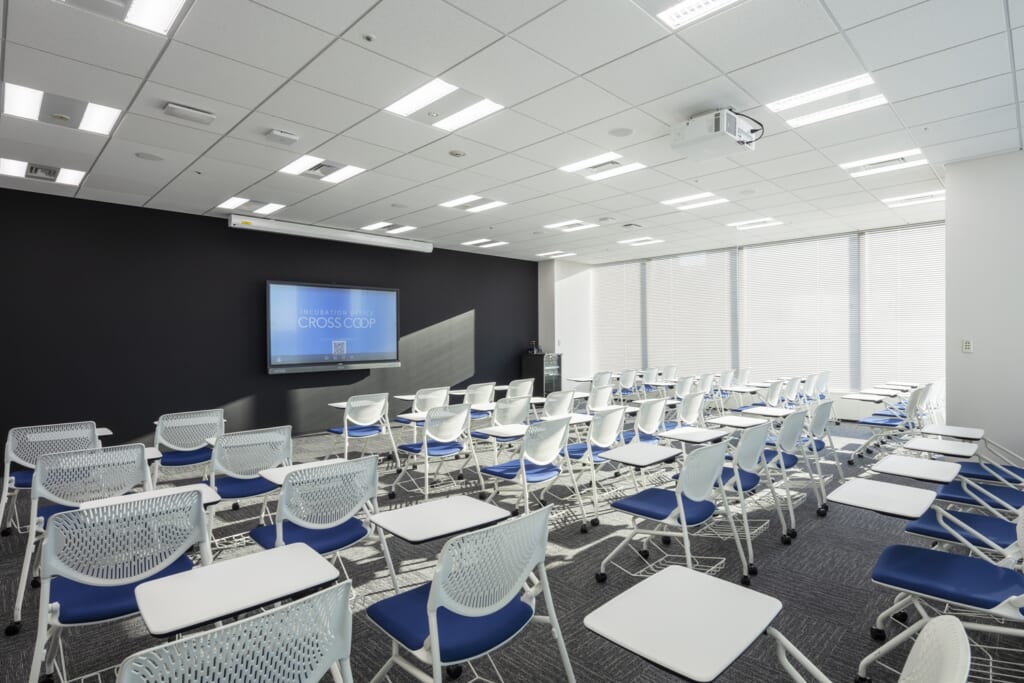 Seminar room
There is a seminar room with a capacity of 54 people. Equipped with monitor, projector, whiteboard and microphone set. Both are bright and open in the seminar room with large windows. CROSSCOOP members can use it at a special price.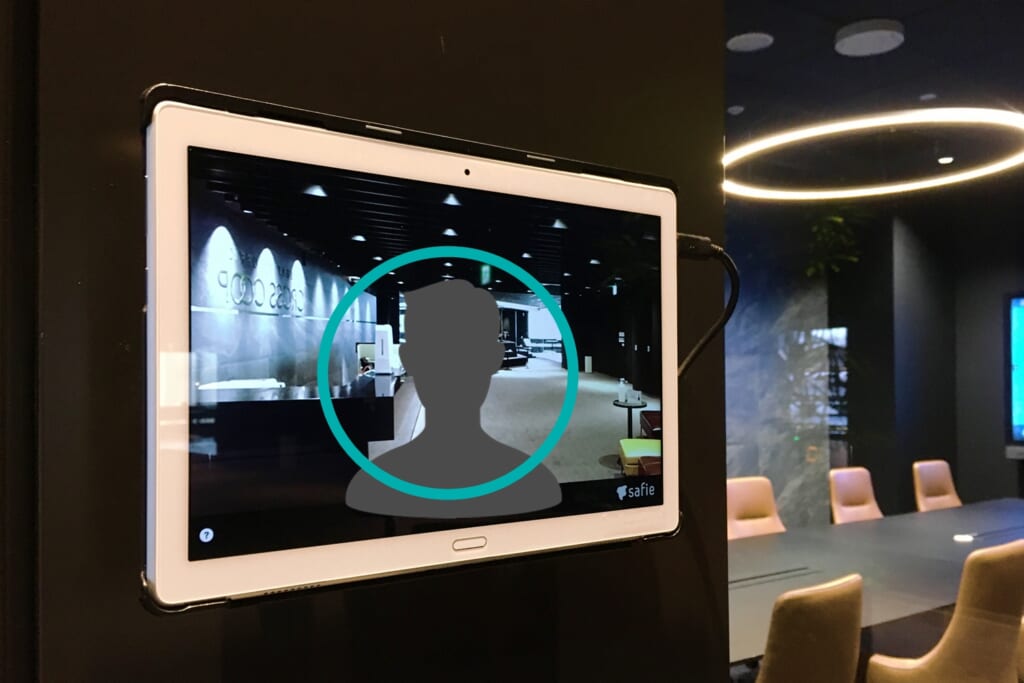 Security
Each office is fully auto-locked. In addition, double security is provided for access to the office from the rental office floor, and a "face recognition" system is used. "Entry / exit log" can be extracted as an option. Security cameras have also been installed to further enhance security.
Facilities and services
" CROSSCOOP " is equipped with facilities and services that can be used free of charge, such as a 24-hour meeting room and reception desk. In addition, we also offer various optional services that you can use according to your needs.
Free incidental service
Meeting
room
24H Free
Address
Registration
High speed
Internet
Reception
Services
Groupware
Services
StandardOffice
Furniture
Paid optional service
Telephone
number
Telephone
transfer
Dedicated
Fax Line
Secretarial
Services
Company
Signboard
Large
Seminar
Room
Business
Support
High-spec equipment suitable for future work styles (telework
/ remote work)
The "Yokohama Diamond Building" with "CROSSCOOP Yokohama" meets the requirements of the landmarks and offices that represent the east exit area of Yokohama Station at a high level.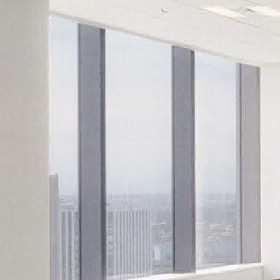 Advanced equipment for a comfortable business environment
For daylighting, which is indispensable for a comfortable business environment, we have introduced an automatic dimming system that controls the brightness and power consumption with a daylight sensor at a ceiling height of 2900 mm with a feeling of openness, and the inclination of the sun with a sunlight tracking sensor. It is equipped with an automatically controlled blind that automatically adjusts the angle of the blind according to the light. Regarding room temperature control, Low-E double glazing that reduces the heating and cooling load is used to suppress the rise in indoor temperature in summer and to exert a heat insulating effect in winter. In addition, we have adopted an air barrier method that creates an air flow by blowing air from the bottom of the window and sucking air from the brand box, creating an air barrier along the window glass. It is possible to work in a state-of-the-art ventilation system.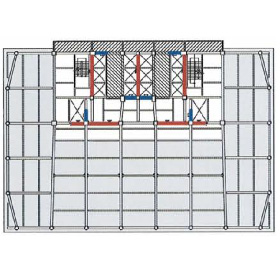 High-level BCP-related equipment
A central monitoring room where equipment engineers monitor equipment and a disaster prevention center where 24-hour security guards are stationed are set up, and a system is in place to constantly respond to risks. With regard to electric power, we have built a highly reliable 3-line spot network and are equipped with 72-hour emergency power generation to support business continuity even in the event of a power outage. At the top of the building, an active mass damper is installed to instantly calculate the force to cancel the shaking of the building with a computer and move the weight with a vibration device to control the vibration. It enhances habitability against wind sway and small earthquakes. In addition, vibration control places that resist horizontal forces caused by earthquakes and effectively absorb seismic energy, and vibration control walls that act as damping elements during earthquakes and strong winds are installed in the core of the building, which is high. Seismic performance is realized.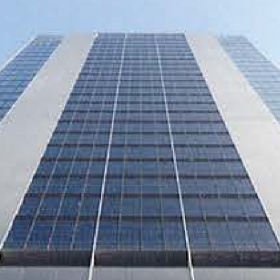 Consideration for the environment led by innovation
Japan's largest integrated solar panel with building materials is installed on the outer wall surface on the Yokohama Station side to use natural energy. In addition, the heat load on the building is reduced by automatic control blinds using a solar automatic tracking sensor and lighting control using a daylight sensor. In addition, on / off of air conditioning, high-efficiency individual air conditioning system that can set temperature / air volume setting for each zone, toilet water purification system using rainwater, Low-E double glazing that enhances heat insulation, lighting sensor / human sensor Due to various advanced environmental considerations such as a mechanism to minimize lighting energy, the Yokohama Diamond Building with "CROSSCOOP Yokohama" has "service performance", "outdoor environment", "outside environment", and "resources". We have obtained the highest evaluation "S rank" in the "CASBEE Yokohama certification system" that ranks the environmental performance of buildings based on the six indicators of "material", "energy", and "indoor environment".
Yokohama has a different charm from Tokyo as a business base

Yokohama Station is one of Japan's leading terminals, with more than 400,000 passengers a day. 6 JR lines, 5 private railway / municipal subway lines, and many bus lines are also available. In addition to the many entrances to the Metropolitan Expressway, access to Narita Airport is secured by Yokohama City Air Terminal (YCAT) and Narita Express, so it boasts the highest level of urban functions in terms of transportation convenience.
In recent years, the east exit area "Portside District" where "CROSSCOOP Yokohama" is located has been attracting attention as a new face of Yokohama, and the adjacent Yokohama Bay Quarter has nearly 100 stores such as apparel stores and interior shops on the first floor. There is also a sea bus stop for sightseeing that allows you to easily travel to Chinatown, Motomachi and Minatomirai. It is being developed as an "art and design city", and various public arts are exhibited in the common areas and entrances of the buildings lined up, and you can feel the art such as Portside Park where the gentle slope of the lawn is beautiful. The environment has been created. It has a different charm from the office area in Tokyo, where you can work on your business while feeling the sea breeze.
Contact by phone
Call us for detailed information.
Please do not hesitate to contact us.
Yokohama Serviced Office+81-50-6861-2909( Reception operating hours: Weekdays 9:00 a.m. to 6:00 p.m Tokyo time )