JAKARTA
Serviced Office
A high-grade rental office suitable
for a business base that opens up the times
Available room information
Floor plan
※Click each room
for see a photo and detail
:promotion :available 
:reserved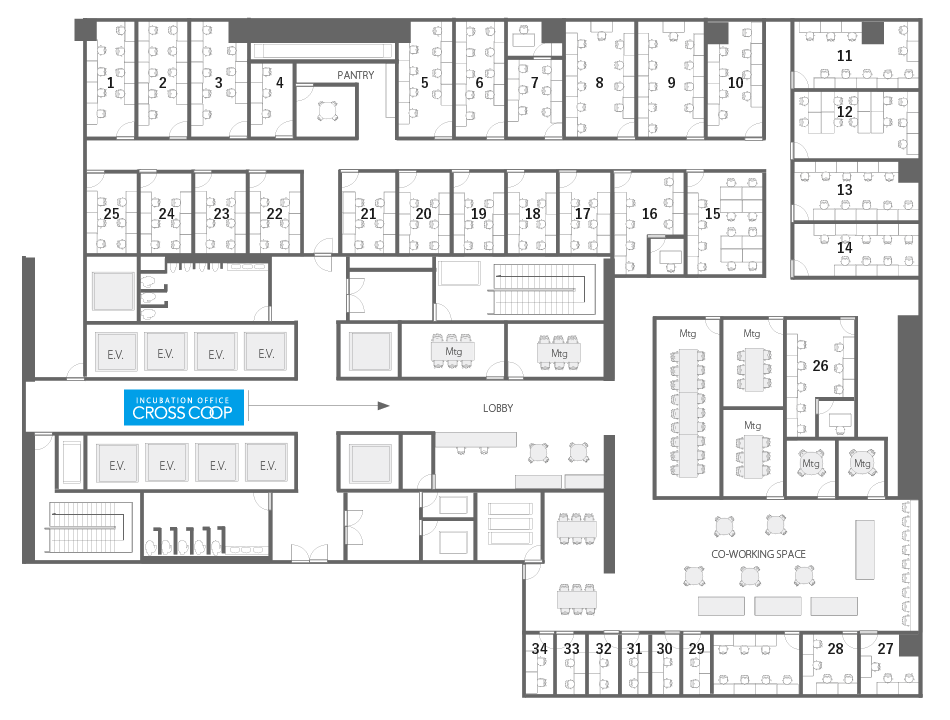 Serviced Office & Co-Working Space in Jakarta with Japanese standard of service where companies from large-scale corporations to small and medium sized ventures gather.
Serviced Office & Co-working space CROSSCOOP JAKARTA Centennial Tower is conveniently located right off the entrance of the highway from the city towards the suburbs in the Semanggi area. You can register your company in this A-class high-rise office building. We have private office rooms that can accommodate from 1 to 13 people with contract term from as short as one month available. Our new office also comes equipped with a Co-Working space where our Tenants and Virtual officer users can relax and work with a cup of coffee in one hand. CROSSCOOP is ideal for use as a preparation office prior to starting physical store or as a research office. Many companies with production facilities or stores in the suburbs also use CROSSCOOP as a liaison office. Please feel free to contact us on matters regarding company registration, recruitment, housing, etc.
Our Service
Staffs in our Serviced Offices & Co-working space are fluent in Japanese, English and Indonesian to help ease the communication anxieties clients may have. We can cater our services in multiple languages, for example, translation and business incorporation service in Japanese language for Japanese speakers, or in Bahasa Indonesia for Indonesian speakers. We offer a wide range of business support and we are able to introduce professional agents to assist you in company setup, accounting and tax, human resource, accommodation, and market research in Indonesia at no extra costs.
NEW NORMAL CAMPAIGN !! Free Setup fee, Virtual Office 50% OFF, Private Office Up to 50% OFF, Minimum Contract from 1 month, Upgrade or Downgrade your room size anytime you want ! Full Customable Room, We can install Anti virus Divider/ self partition for every desk. Room Available from 1 pax – 50 Pax.
| | |
| --- | --- |
| Security | Entry-and-exit system is managed by 3 levels of security – security at the building entrance, office entrance as well as doors to private and shared office rooms, preventing trespassers from accessing your personal office space |
| Electricity supply | There is backup power generator in the office building so you may continue with work and business even if there is a power cut |
| Office Furniture | Each room is fully furnished with desks and chairs. One lockable cabinet is also assigned to each desk. |
| Meeting Rooms | Two 6-pax and one 12-pax meeting room are 24-hour accessible on reservation basis. In-house clients are entitled to discounted rate for meeting room or seminar room usage. |
| Telephone | Each desk is assigned with a telephone and there are two options available for phone number settings – either our company extension line or private line. Call-answering service is also available to answer incoming calls during your absence. |
| High Speed Internet | Every room is equipped with high speed wired LAN connection while wireless LAN is available in meeting rooms and common areas. VLAN Network is used in every room for privacy and security purpose |
| Multi-functional Printer | Shredders and Multi-functional printers for printing, copying and scanning are available in the common area |
| FAX | Our device is solely for incoming fax and it will be delivered to you via email |
Contact by phone
Call us for detailed information.
Please do not hesitate to contact us.
Jakarta Serviced Office(Co-Working Space) +62-21-2953-9500 (Reception operating hours: Weekdays 9:00 a.m. to 6:00 p.m Jakarta time)